Honkai Star Rail codes for May 2023 and how to redeem codes in Star Rail
Credit to these Stellar rewards.
Honkai Star Rail codes can provide you with free Stellar Jade, Credits, and character and Light Cone experience, with some of these helpful rewards included this May 2023.
We suspect these active codes have the same sort of expiration date as with those in Genshin Impact and Honkai Impact 3rd, HoYoverse's other gacha games, so make sure you know how to redeem codes in Honkai: Star Rail before these working codes expire.
If there are any special program livestream codes for Star Rail added in the future, we'll be sure to add them too!
On this page:
Official Release Trailer - "Interstellar Journey" | Honkai: Star Rail.
Honkai Star Rail codes for May 2023
To celebrate its launch we got lots of new codes, but most of them have unfortunately expired now. Now, we only have one code for Honkai: Star Rail in May.
Here's all active codes in Honkai: Star Rail:
STARRAILGIFT: x50 Stellar Jade, x2 Traveler's Guide, x5 Bottled Soda, and x10,000 Credits
Look in your in-game mailbox after unlocking it to also claim your pre-registration rewards if you signed up before launch, which includes a 4-Star character and x18 Star Rail Passes.
At launch, you can also take part in a login event to claim even more free rewards for your account from the 'Travel Log' menu every day.
Until the 24th May, there are also Twitch drops (which include Stellar Jade) being rewarded for those who link their Twitch account to their Star Rail account and then watch any Star Rail-related livestream.
We'll update this page when new codes are released, or any expire. To check if you code you're trying to use is valid, you can jump to our expired codes section.
---
We can help on your early Astral Express journey with our character tier list, redemption codes, how to get Stellar Jade, how to get Star Rail Passes, Stagnant Shadow explainer, and Seele build and Jing Yuan build pages. For side quests, we've also got Ministry of Education quiz answers, puzzle solutions for 'Sensitive Beings', 'Vessel of Mediocrity', and 'Night on the Great Mine'. Elsewhere, you can get more information on the next Banner, and the current 1.0 Banner and events schedule, and check out the English voice actors list.
---
How to redeem codes in Honkai Star Rail
To redeem codes in Honkai: Star Rail, you can either visit the official redemption site and login to your account, or you can redeem them in-game.
To redeem codes in-game, you need to bring up the main phone menu (ESC on PC, tap the phone symbol in the top-left of the screen on mobile), select the three dots symbol located above your Trailblazer Rank at the top, then select 'Redemption Code'.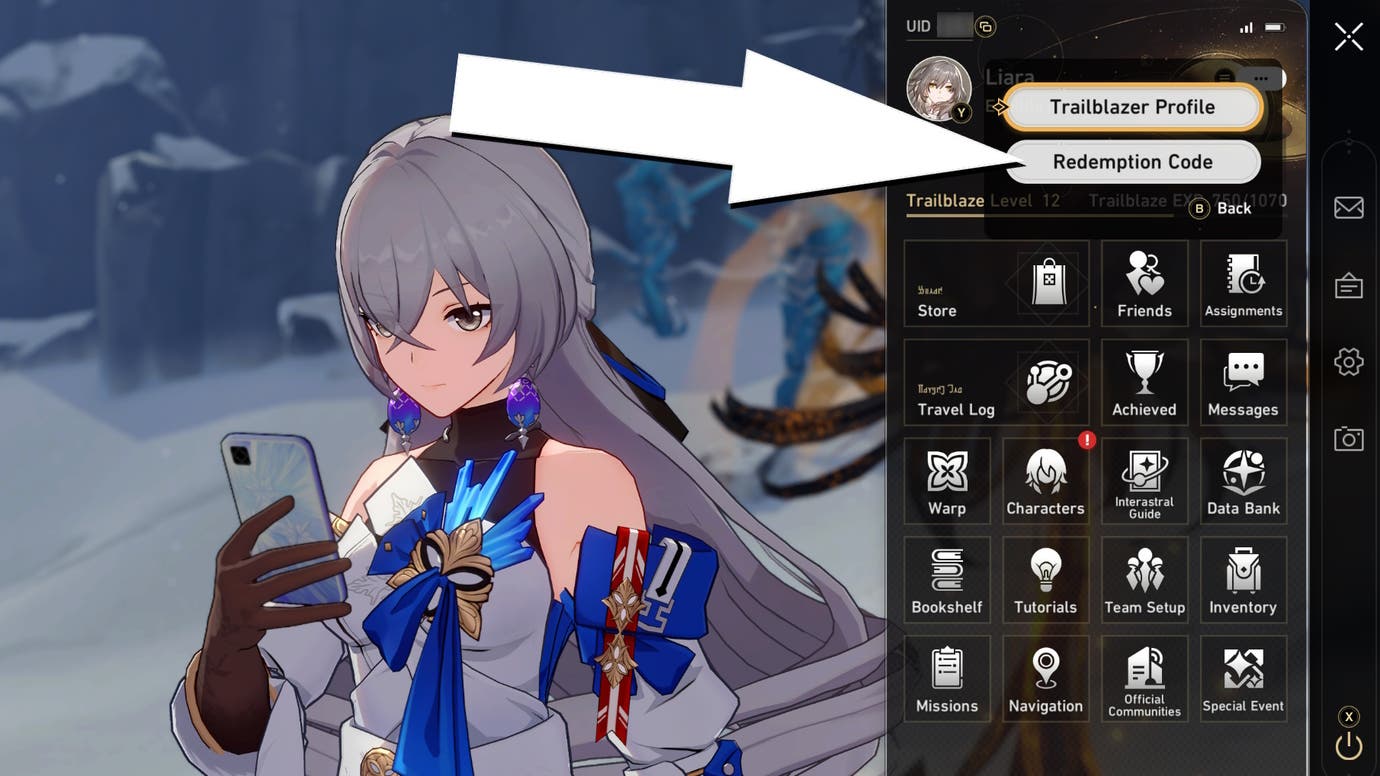 All you have to do now is type or paste a valid Star Rail code, then click 'Confirm'. If you enter an active code that you have never redeemed before, you'll get the rewards sent to your in-game mailbox (the envelope icon on your phone menu). You must go to your mailbox and claim the rewards there to add them to your inventory.
If you don't see the rewards in your mail right away, quit out of the game and relaunch it.
Lastly, keep in mind that you can only claim an active code once per account character.
Honkai Star Rail expired codes
If you're trying to redeem a code and the game is rudely shouting at you that it's invalid, you're most likely trying to redeem an expired code.
To help you see if this is the case, we've listed all expired codes in Honkai: Star Rail in the table below, along with their rewards, and what date they expired:
| Expired code | Reward | Expired On |
| --- | --- | --- |
| HSRGRANDOPEN1 | x100 Stellar Jade and 50,000 Credits | 30th April, 2023 |
| HSRGRANDOPEN2 | x100 Stellar Jade and x5 Traveler's Guide | 30th April, 2023 |
| HSRGRANDOPEN3 | x100 Stellar Jade and x4 Refined Aether | 30th April, 2023 |
| 2T7BP4JVEBT7 | x3 Adventure Log, x2 Condensed Aether, x3 Cosmic Fried Rice and x5,000 Credits | 7th May, 2023 |
| HSRVER10XEDLFE | x50 Stellar Jade and x10,000 Credits | May 2023, reached usage limit |
Have fun with your free Star Rail rewards!