Rusty Lake's next adventure rides an underground train through its protagonist's life
Underground Blossom out later this year.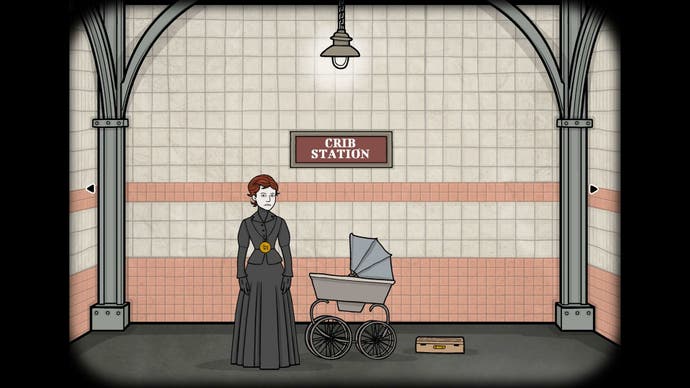 It barely seems like yesterday, developer Rusty Lake was wowing us with its wonderfully inventive co-operative puzzler The Past Within, but now the studio is back to announced its next adventure, Undergound Blossom, coming later this year.
To date, Rusty Lake has released 16 games under the Rusty Lake and Cube Escape banner - some fully fledged premium offerings, others free-to-play companion pieces - blending casual point-and-click puzzling and room-escape-style conundrums into a wonderfully sinister, narratively intertwined saga charting the lives of the Vanderboom family.
As with developer Rusty Lake's last few titles, the newly announced Underground Blossom ditches the Rusty Lake moniker but is still very much set in its sprawling universe, this time taking players on a journey via the Rusty Lake underground system through the life and memories of Laura Vanderboom - first introducd all the way back in Cube Escape: Seasons.
"Travel from station to station, each metro stop symbolising a piece of Laura's past and future," developer Rusty Lake explains. "Solve various puzzles, find the correct metro to board and uncover one of Laura's timelines, while simultaneously helping her make sense of her life and escape the corruption of her mind!".
There's no release date for Underground Blossom yet, but it's coming to Steam and mobile "late summer" this year - and there's a demo out now. And if you've yet to experience the Rusty Lake and Cube Escape saga, now's the perfect time to get stuck in. As the series celebrates its eighth anniversary this week, the entire collection is currently discounted on Steam.
The nine-game Cube Escape Collection can be purchased for £1.99, while the more substantial Rusty Lake games range from 79p right through to £2.99 for last year's excellent - and Eurogamer Recommended - The Past Within. Ordinarily, I'd suggest the beautiful, surprisingly moving Rusty Lake: Roots as a good starting point, but at their current bargain price point, speaking as a massive fan, it's hard not to recommend just buying them all.