DF Direct Weekly: Unrecord's 'viral' trailer is just a taste of the UE5 surprises to come
Plus: Horizon's Burning Shores DLC impressions and Legend of Aveum's massive PC recommended specs explained.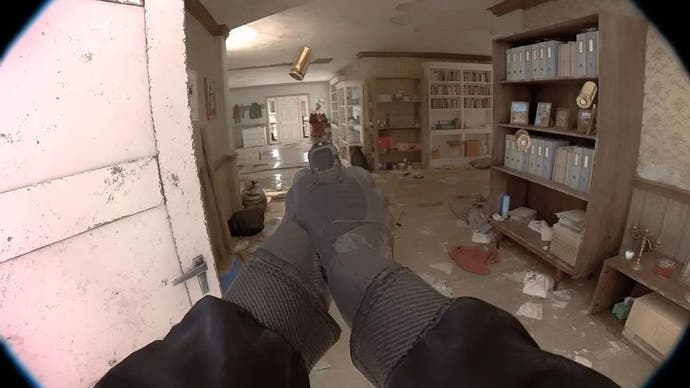 DF Direct Weekly is our regular scheduled show concentrating on the latest gaming and technology news - and sometimes that's problematic as there isn't always much of note to discuss. Last week was heading down this path until the arrival of a remarkable video trailer for Unrecord, an upcoming tactical shooter from developer Drama. Ultra-realistic with excellent materials work and lighting combined with an excellent GoPro-style camera simulation produced a slice of gameplay that many believed to be fake - but it isn't.
Of course, we've seen something similar before. Last year, there was a great deal attention given to a replay camera view taken from the game Ride 4, which also 'went viral' - and for similar reasons. The same kind of overcast/blown-out lighting is in full effect, while camera motion added an additional layer of realism. These techniques have the same kind of impact in Unrecord, but with a twist - Unreal Engine 5's material system and ray-traced lighting produce an even more realistic effect.
As UE5 along with Lumen and Nanite become more widely adopted by developers, our hunch is that you're going to be seeing a whole lot more of these kind of videos - not just the extreme realism seen here, more in terms of an elevated level of accomplishment in visuals more generally. With Unrecord, the only real question from our perspective is whether that dynamic camera is actually compatible with gameplay, or whether a lot of users will suffer motion sickness as a result. Based on Ride 4, a more traditional camera set-up delivers a much more game-like presentation.
The gradual arrival of Unreal Engine 5 features in shipping games continues with the upcoming release of Legend of Aveum, due on July 20th. It'a a fantasy style game reminiscent of Heretic, Hexen and even celebrated DF favourite, Lichdom Battlemage - but it's pulling out the stops with both Lumen and Nanite in effect, meaning beautiful lighting and some extremely detailed visuals. The use of next-gen features directly translates to recommended specifications that are causing some concern, with relatively modern eight-core CPUs required along with GPUs like the RTX 2080 Super and the RX 5700 XT.
Perhaps unsurprisingly, these specs can be broadly mapped over to the current generation consoles that Unreal Engine 5 targets - but we can add a significant asterix to that. It turns out that these recommended specs are targeting 1080p and 1440p at 60 frames per second. There's no mention on image reconstruction via upscaling - be it through Epic's own TSR or alternative solutions like FSR2 or DLSS, but native resolution rendering with Lumen and Nanite is tough on hardware. The developers are keen to stress the high frame-rate angle, but of course, we will find that running the game on lower-spec PCs is possible - it's just that you'll need to take a hit on resolution and/or frame-rate. Legends of Aveum looks really promising though, and you can be sure we'll be taking a closer look at it closer to the July release date.
In this week's Direct, we also spend some time sharing first impressions on Horizon Forbidden West's Burning Shores expansion. We've got full coverage on that coming soon, but suffice it to say - the game that won our award for the best game graphics of 2022 continues to up the ante moving into 2023. Burning Shores is simply beautiful, with Guerrilla able to push visual quality still further without being weighed down by the boat anchor that is supporting the last-gen PS4 consoles. Density in detail and a phenomenal cloud simulation system that effortlessly one-ups Forbidden West's are just a couple of the highlights. It's definitely worth buying if you completed Forbidden West.
There's plenty more in the Direct, but as always, our Supporter Q+A session continues to deliver the goods. We share our views on the extent to which Cyberpunk 2077 RT Overdrive may be viable on consoles, we discuss what 'going gold' actually means in the current gaming era and tackle the question of how Nvidia's RTX Remix path-tracing injection technology may apply to emulation. Also, will there ever be another Digital Foundry Office Tour? That might be slightly tricky bearing in mind we closed our office in 2018 and went 'full remote', but we are committed to other types of behind-the-scenes material on the DF Supporter Program. Here's an example!
All of which segues seamlessly to a plug for our Patreon! Last year we relaunched that with a view to using your support to deliver more PC content - and that's starting to kick in now as a newcomer to our ranks strengthens our PC game reviewing. We're looking to deliver more PC coverage and more optimised settings, while work also begins on a new approach to PC hardware reviews, where we're looking to deliver new types of content that'll set us apart from other outlets. Join us!
Will you support the Digital Foundry team?
Digital Foundry specialises in technical analysis of gaming hardware and software, using state-of-the-art capture systems and bespoke software to show you how well games and hardware run, visualising precisely what they're capable of. In order to show you what 4K gaming actually looks like we needed to build our own platform to supply high quality 4K video for offline viewing. So we did.
Our videos are multi-gigabyte files and we've chosen a high quality provider to ensure fast downloads. However, that bandwidth isn't free and so we charge a small monthly subscription fee of £4.50. We think it's a small price to pay for unlimited access to top-tier quality encodes of our content. Thank you.
Support Digital Foundry